Pastor / Session / Deacons / Staff
Our Pastor
Our Pastor is Nicole Vogel. Nicole Vogel was raised in the woods. To reach her family's home required traveling a narrow driveway through a 17½ acre forested area to the house, a converted hunting cabin. She loved being outdoors and, early on, knew that this wonderfully beautiful creation was surely a gift from God.
To help care for Nicole and her three siblings, her grandparents bought a mobile home and located it on her parents' land. Coming from a Pennsylvania Dutch heritage, Nicole's grandmother taught her to cook (using lots of sugar, cheese, and butter) beginning when Nicole was about five years old. Nicole still gets teased about her taste for cottage cheese and apple butter. She also learned Pennsylvania Dutch colloquialisms. Sometimes you will catch her using the "Dutchie" way of phrasing, which can seem the backwards way of saying things.
In some sense Nicole's call to ministry began as a child. In first grade Sunday school she wrote that she wanted to be a nurse missionary. As a teen, she wanted to be a teacher. She taught Sunday school and planned to earn a teaching certificate in college. She applied to Moravian College and was accepted.
Nicole graduated from Moravian in 2003 with a Bachelor of Arts degree in Psychology. She became a member of a Presbyterian church and led the youth group. At the time, she felt a strong tug urging her to go to seminary to gain better skills, but she ignored it. For three years Nicole worked as an Intensive Care Manager for mental health patients in Northampton and Lehigh Counties. For a year she took care of an elderly uncle, and then was hired as a social worker to look after the psycho-social needs of elderly patients in a nursing home. Then God stepped in. After her first brain surgery in 2008, Nicole was out of a job. She again felt being led into ministry, but made an excuse to God, saying that she had to deal with the cancer. Finally, after surviving a second brain surgery in 2011, Nicole recognized she had been given the miracle of continuing to survive a terminal disease. She listened to God saying, "No more excuses," and took the leap of faith to apply to seminary.
Nicole's guide became Philippians 4:13: "I can do anything through Him who strengthens me." She was accepted at Moravian College Seminary in 2014 and graduated with a Master of Divinity degree in December 2018, having completed all requirements for ordination. Nicole maintained a 4.0 Grade Point Average and received several scholarships for academic excellence. Her highest honor was being selected by the faculty to receive the Dean Scholarship, given each year to only one returning student. For two years while in seminary, Nicole served as student minister to the East Stroudsburg Presbyterian Church, where she excelled.
In January 2018, the congregation of East Stroudsburg Presbyterian Church called Nicole Vogel to be its permanent pastor. She was ordained and installed by Lehigh Presbytery on March 17, 2019.
Pastor Nicki, as she prefers to be called, is thankful that she continues to be a cancer survivor. She believes God calls us to relationships within the church and within the community. She loves working with all age groups and genders, and is creating new opportunities for members to connect with others both inside and outside of the church.
Pastor Nicki and her husband Christopher, a CPA at Penn Medicine Chester County Hospital, have been married 14 years. They have two children, Kylee, age 11, and Gavin, age 8. To learn more about Nicole Vogel visit her portfolio website www.pastornicolev.com.
Session
The leadership of each Presbyterian church is elected by the individual congregations and ordained to their offices. This leadership consists of two separate boards. The first is called the Session, which is composed of the Pastor, who moderates their meetings, and nine 'Ruling' Elders. Together they oversee the ministry, mission, facility, and financial programs of the church. The Elders are divided among various committees, whose members also include at large members of the congregation. The Elder that chairs the Property and Finance committee serves as the President of the Congregation for all corporate transactions. The Session elects a Clerk of Session from its members. The Clerk maintains all Session and Congregational records and is the primary officer for direction and consultation in the absence of the Pastor.
Elder Judith A. Schreck is the current President of the Congregation. Judy is originally from Lower Bucks County and graduated from Neshaminy High School. She attended East Stroudsburg University, where she met her husband Ed. Judy graduated with a teaching degree in Health and Physical Education. She taught at Bensalem High School for three years, before starting a family. Judy and her family then returned to Monroe County and lived in Tannersville, where they raised their two daughters. Judy eventually went back to work in the Stroudsburg Area School District. She received her Master's Degree from the University of Turabo in English As A Second Language. Judy retired after 33 years of teaching. Since joining The Presbyterian Church of East Stroudsburg in 1975, Judy has served in many capacities, such as a Sunday school teacher, Moderator of the Deacons, and now, Elder. She is also on several church committees. Judy and her husband of 48 years enjoy spending time with their children and seven grandchildren, traveling, and playing golf.
Elder Eleanor Buff is Clerk of Session and Secretary of the Congregation. Ellie graduated from Wilson College in Chambersburg, PA with a BA in mathematics. She and her husband, a professor at ESU and Kutztown U, were founding partners in a local business, Municipal software, Inc. They joined East Stroudsburg Presbyterian back in 1969 and raised their three children in the church. Ellie has served many terms on the Session and has served as Chair of various committees including Christian Education, Worship, Personnel, and Mission. Ellie also coordinates our annual yard sale, and our participation in FamilyPromise. She enjoys tennis, bridge, and visiting her family, including her 10 grandchildren and a great grandchild.
Deacons
The second leadership board in a Presbyterian Church is called the Deacons, which is made up of 12 persons elected by the congregation and ordained as Deacons. They, in turn, elect Moderator, Vice-moderator, Secretary and Corresponding Secretary. The Pastor serves as an advisor to this board. The Deacons are the support staff of the congregation. They support worship by co-coordinating Greeters and Ushers for each service. The Deacons support members and their friends by visiting the sick and shut-in, bringing flowers, providing receptions for funeral and farewell services, conducting food drives and overseeing the funds used to assist members in times of need. Our Shepherd Ministry reports to the Board of Deacons. They support fellowship by hosting a monthly coffee fellowship after worship, and by sponsoring Lenten soup suppers and the 'Souper' Bowl mission event.
Linda Schaller is the Moderator of the Board of Deacons with Sue Ellis as Vice-Moderator, Linda Schaller as Secretary, and Cindy Schrick as Corresponding Secretary.  This strong leadership team and board bring care, service, shepherding and encouragement to our congregation.
Each congregation also elects a Treasurer, who is the financial officer of the church. Elder Barbara Braithwaite is our Treasurer. Barbara and her husband grew up in Jackson, Michigan and graduated from Central Michigan University. She earned her Masters' Degree from the University of Michigan, while her husband David served in the U.S. Army in Korea. Being an Army wife, Barbara and her family have lived in many interesting place — from Fairbanks, Alaska to Heidelberg, Germany. David's final posting to Tobyhanna Army Depot brought their family to the Poconos. Barbara taught in the Pocono Mountain School District for 21 years, culminating in her election as Pennsylvania Teacher of the Year in 1999. She and her husband came to ESPC in 1992 because they felt the presence of God among this very welcoming and dedicated congregation. Barbara has served this congregation as Elder, Clerk of Session, and on several committees. She and David divide their time between church, traveling, and visiting their two children and three grandchildren. The couple will celebrate their 60th wedding anniversary in November 2019.
Staff
Jennifer Carmella, Church Secretary
Jen has been with East Stroudsburg Presbyterian Church for the past 13 1/2 years, during which time she has served four different Pastors. She is responsible for all secretarial and financial duties of the Church.
Jen and her husband, Michael have been married over 30 years and they have three adult children and three grandchildren.
Linda Schaller, Music Director
A native of the West Chester area, Linda earned a BS in Music Education from West Chester University. Upon graduation, she was recruited to the East Stroudsburg school district to fill a job opening in Elementary music. Linda started at ESPC in 1974 as a member of the choir, and formally joined the church in 1976. She is now our current Choir director, and has also served as organist.
She and her husband, Frank, were married for more than 35 years and have two grown sons and four grandchildren. After more than 40 years of teaching, Linda retired from the East Stroudsburg School District in 2015.
Mike Silvoy, Sexton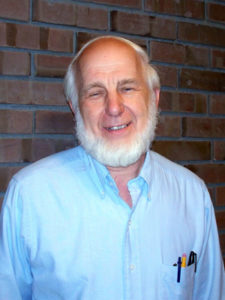 Mike joined our Church staff in 2012 and serves as our part-time Sexton. He takes care of all the cleaning needs of the Church as well as any arranging and set-up for various events. Mike is quite creative and well organized and keeps things in good order.
He is married and has two grown children. Mike works as Stage Manager for the East Stroudsburg School District as well, where he has been employed for over 20 years. He also served in the United States Army.